2022.06.21
Pacifico Energy Receives the Medal with Dark Blue Ribbon for its Support to Okayama Prefecture
Pacifico Energy K.K. (headquartered in Minato-ku, Tokyo; President: Hiroki Matsuo; hereinafter referred to as "Pacifico Energy") is pleased to announce that it has received a letter of appreciation "Medal with Dark Blue Ribbon" in recognition of its support for the Okayama Prefecture's project to utilize donations to create a town, people, and work environment. The Medal with Dark Blue Ribbon was presented at a ceremony held today at Pacifico Energy by Mr. Asuo Tamaki, Head of Okayama Prefecture Tokyo Office.
The donation was made through the corporate-type hometown tax payment system in November 2021 to support three projects: a project to revitalize companies declaring support for child-raising in Okayama, a project to promote internship participation by young workers, and an after-school children's club project.
Pacifico Energy will continue to actively support these activities by raising awareness of social contribution activities among both the company and its employees.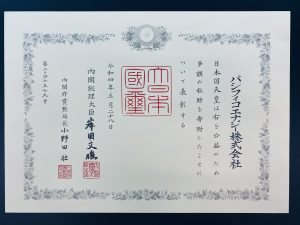 Pacifico Energy
Public Relations
PR@pacificoenergy.jp